Sunny Point Pastoral Company Paddock to Plate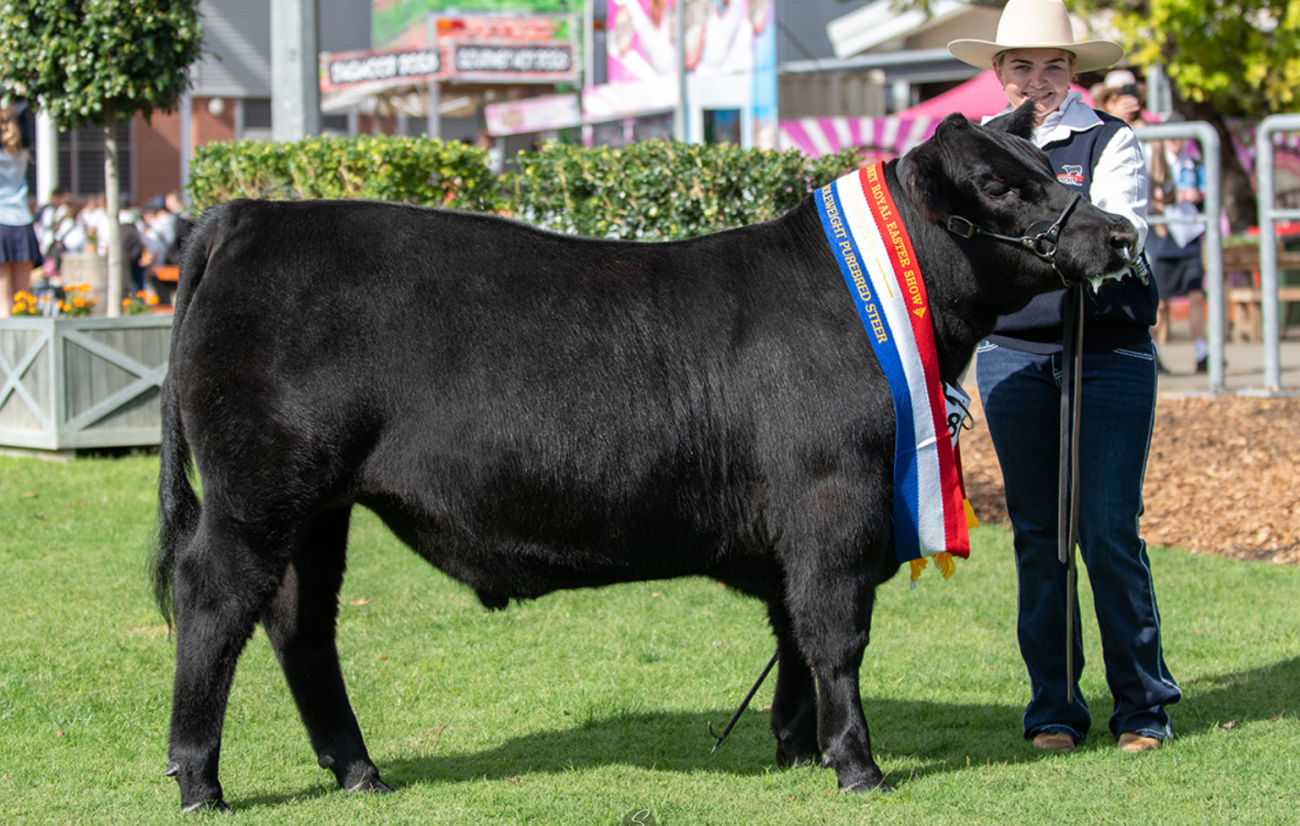 Royal Easter show 2021 Lightweight Steers
The Angus breed continued to boost its reputation as the breed for carcase and taste quality with an outstanding performance at the 2021 Sydney Royal Easter Show in both the purebred and trade sections, with Angus steers featuring heavily amongst the major awards across all facets of the competition.
In the live judging of the purebred section, two Angus steers exhibited by Scots All Saints College, Bathurst NSW and bred by Sunny Point Pastoral Company, Oberon, received awards.
The steers were placed 2nd and 4th in their class, with the 2nd place steer going on to be awarded Reserve Champion Open Lightweight purebred steer on the hoof.
Reserve Champion Steer weighed 377kg, 12mm Rump and 8mm Rib Fat. On the Hook the carcase returned 215kg dressing @ 57%, 11mm and 9mm P8(rump) and rib placing 2nd in class for Virtual Taste test.
The 4th place steer weighed 375kg, 18mm Rump and 10mm Rib Fat. On the Hook the carcase returned 214.5kg dressing @ 57.2%, 16mm and 11mm P8(rump) and rib. This carcase was awarded 1st in class for Virtual Taste test.
Both steers were sired by Bongongo Reality K522.
Sunny Point Beef is available at IGA in Cootamundra, Grenfell and Oberon and from the Cootamundra Butchery.
GENES DO MATTER – CONGRATULATIONS
ROYAL MELBOURNE SHOW 2017
The Champion medium domestic carcass at the Royal Melbourne Show went to a 429kg live weight Angus steer exhibited by Gundagai High School and sired by Bongongo K547.
Gundagai High School also exhibited a 506kg Angus steer sired by Bongongo K547, that received Reserve champion heavy domestic carcass and second place in the School Steers Bonanza.
In the Borthwick Trophy for team of three purebred steers, the Angus team placed second.
An outstanding effort considering that the school have less than ten cows in their show herd.
ROYAL SYDNEY SHOW 2018
In the school exhibitors a steer showed by The Scots School Bathurst won the CHAMPION VIRTUAL TASTE CARCASS. This steer was given to the school by SUNNYPOINT PASTORAL CO (Mahwood family), Oberon. And was sired by Bongongo NGX J306.
Sunnypoint Pastoral Nemo S16 weighed 469kg with a very even fat cover and was fourth in his class on the hoof before being given the carcass award.
Well done to the Mahwood family as they do a 'paddock to plate' sale of their steers through their IGA supermarkets at Oberon, Genfell and Cootamundra under the Sunnypoint Pastoral brand.