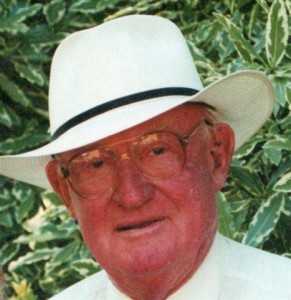 On the 7th January 2012 the curtain was drawn on the life of H.L.(Bill) Graham (aged 90 years) that brought to an end a large chapter in the history of "Bongongo", the Adjungbilly area, the Shire of Gundagai and the wider community in agriculture in this country.  The tremendous farewell given to Dad at his funeral was momentous and a tribute to the effect he had on all he encountered. His loss deeply felt by mum, his nine children, their partners and thirty four grandchildren plus so many friends that had such fond memories of Dad.
As stated in his eulogy "His contribution to his profession as a grazier was innovative and visionary, building on the foundation of his grandfather and Uncle Fred – Bongongo – in partnership with his brother Bruce, and enjoying the  support of close friends such as Gerry Renehan, Bob Bullman and John Scroope.    He worked hard to the high standards that he set himself, deeply attached to God's own country where he liked his cattle black and his sheep white.  Dad could be black and white on a few things, and was very clear thinking.  And yet when it was time to hand over the reins to the next generation, he achieved that as well, leading from behind and leaving yet another positive legacy for his family."
The development of the Bongongo herd was testament to his vision of the strengths of Angus cattle being the largest herd in this area for many decades.  Dad and Bruce held large on property sales in the 1960's an innovation that became popular over the last three decades and helped to establish  the Angus breed  as the predominant breed for future years.
Dad captured the need to keep abreast of developing technologies which saw the early adoption of Artificial Insemination  in 1972 and Embryo Transfer in 1980 into the Bongongo Stud.
The purchase of Boonongo (formerly Boonoke North) near Urana in 1958 from the Faulkiner family was one of Dad's great visions. The acquisition of a large merino breeding operation in the Eastern Riverina to supply Bongongo with woolcutters and surplus merino breeders.    The development of this property and the sheep flock gave Dad great personal satisfaction.  Again early adoption of laparoscopic AI in 1985 plus growing rice crops in the 1990's to develop the irrigation potential of Boonongo showed the capacity of the man.
He has left the next generations the opportunity of a lifetime with a strong affiliation to be involved with agriculture.   The strength of his life and personality  will have a profound effect for decades to come.  His character has left us with
respect for the profession, words of wisdom and dry humour.  Comments starting with the phrase "As H.L. (or Bill Graham) would say……" are likely to be heard around cattle sales for some time yet.
Thanks
Dad.