Abingdon
Bongongo Angus would like to congratulate Paul Ferry Abingdon Station Nangus, and his manager Gary Williamson, who hosted the largest on-property weaner sale in June (2016) selling 1,192 nine to ten month old Angus weaners to average an impressive $1046.
Mr Ferry purchased 5 bulls to average $11,900 including the equal top priced bull at our 2015 Spring sale. He has been a return client here at Bongongo for many years.
This result shows the importance of excellent reproductive management, high fertility and a tight calving span.
Well done Paul and Gary!
"Springvale" Coolac
Long term supporters of Bongongo Angus, are the Harris family from "Springvale" Coolac. Originally they ran Poll Herefords until the late 1990's, they were early to recognise the changing market and the superior carcase traits of Angus cattle.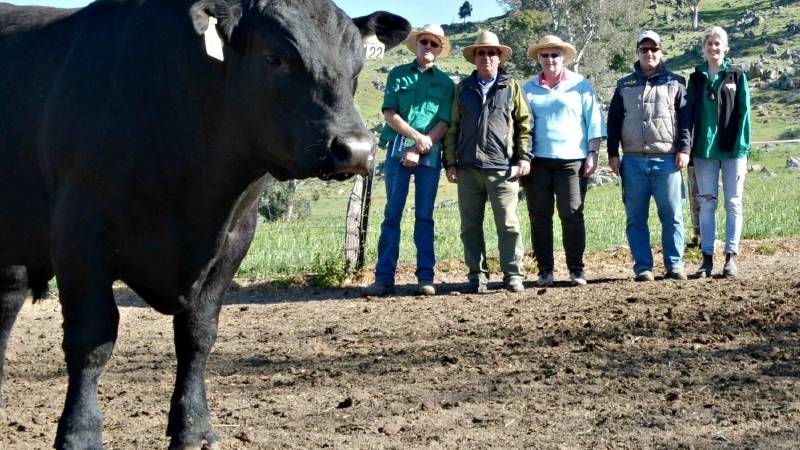 When selecting replacement sires, Graeme and Robbie Harris said they were looking for bulls with correct structure, early maturity and calving ease. "We like low birth weight for our heifer bulls. Our aim is to get a live calf. And we consider 400 and 600 day weight, eye muscle area and marbling in the bulls. We also chose Bongongo for their temperament and conformation, especially good in the feet."
When classing their replacement heifers, the father and son duo, Graeme and Robbie, concentrate on maternal traits, especially fertility and milking ability, conformation and temperament. "We normally get four to five years from our bulls and we still have an eight year old performing as well as anything we have ever had," Robbie Harris said.
Images from The Land
Link to full articles