Our Spring Bull Sale on Wednesday 28th September 2016 will be by the video auction selling system.  This will be our 4th sale by video auction.  This is a safer selling environment for both the buyers and the bulls.  The bulls will be available for inspection from 9am on auction day or beforehand by organising with Bill or Tom.  The bulls are not put through a ring but are auctioned on a TV screen.  This is a growing method of auction in the seedstock selling business.  The sale will be conducted by Elders Gundagai with Steve Ridley Elders Stud Stock Goulburn as the auctioneer.  We will have complimentary morning tea and BBQ lunch prior to the sale commencing.
Remember all our bulls are sold veterinary inspected and in fit working order!  
Our Breeding Objectives
At Bongongo we understand the key profit drivers of our commercial clients with fertility the most important. The Bongongo bulls are given rigorous pre sale veterinary breeding soundness examination (VBBSE) followed in subsequent years by an annual VBBSE where possible. This should be a sale industry standard to maximise bull fertility and protect buyers from poor reproductive performance .
All young Bongongo bulls and heifers are are run in large contemporary groups, off grass and bred to perform in this cold, temperate environment Selection for fertility is matched by those Breedplan EBV's that affect this trait especially calving ease, gestation length, importance of positive rib and rump fat (as proven by the CRC project) to aid selection of AI sires used in the herd. These sires tend to complement the key research from the Beef CRC Maternal Productivity project released proving the importance of higher rib fat depth heifers. They have up to 8% better conception rates compared to those with lower RIB FAT EBV'S. This supports what has been obvious to me for years standing behind many females. It is more obvious in the tougher years and equates to the critical importance of fertility (reproductive rate) and its effect on your enterprise profitability. It was also pleasing to note that selection for higher EMA had no effect on heifer conception rate.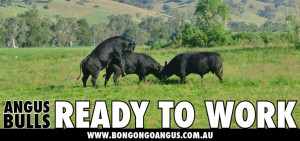 The emphasis at Bongongo has always been in the strength of the female herd. Bongongo females have been carefully selected for fertility, milking ability, structural soundness and length. The progeny of these cows are today in high demand by feedlots for steer calves plus commanding premium for surplus female lines. Not much has changed in 35 years as a cattle vet as fertility remains the key profit driver in your cattle breeding business and matching your herd to your environment is critical. The importance of genetic diversity in the Bongongo Stud is well recognised especially with our veterinary training to limit the impacts on future production due to inbreeding. The effects of recessive genetic traits especially AM, NH & CA and recently DD bears testimony to the dangers of the reliance of using the genetics of some bulls too heavily.
We have a selection of both Stud and Commercial Females for sale now.  Please contact us for details!
Bongongo Angus welcomes private sales (both bulls and females) as required. Finally we pride ourselves on our excellent after sales service so please contact us if you have any problems. Thank you for you interest and support Bill, Shauna and Tom Graham