2016 Autumn Helmsman Sale
Sale results summary:
2016 autumn top $15,000 av $7,960.00
2015 spring top $17,500(2X) av $10,500
2015 autumn top $9,000 av $6,472
2014 spring top $10,500 av $5,900
2014 autumn top $8,500 (2X) av $5,300
2013 spring top $8,000 av $5,200
2012 spring top $8,500 av $5,600
2012 autumn top $8,000 av $5,175
2011 spring top $8,500 av $5,775
2010 spring top $10,250 av $5,360
2009 spring top $9,500 av $5,290
2008 spring top $9,000 av $5,517
2007 spring top $7,250 av $4,182
2006 sale top $8,250 av $4,020
A very successful bull sale on Monday May 23rd saw a total clearance of all 42 bulls offered to a top of $15,000.00 to average $7,960.00. 
The top priced bull Bongongo NGX K319 was purchased by return clients Graeme, Carol and Robbie Harris "Springvale" Coolac.  The Harris' also purchased Bongongo NGX K218 for $12,000.00. 
A significant purchase of 5 bulls was made by Brian Boyd Wyangle Tumut.  John Graham 'Boonongo' Morundah paid an average of $11,250.00 for 2 sires.  Merriment Pastoral Co Forbes 2 sires to average $8,750.00.  The Lenehan family Beggan Beggan Harden took 2 bulls home to average $9,250.00. K.B and S.J. Mitchell Tooma purchased 2 sires and The Armstrong family Baltimore Junee took home 2 bulls. 
Thank you to all our clients for their outstanding support.
2015 Spring Bull Sale
We were very excited with our sale which saw very strong demand for Angus bulls sold to an impressive $10,550.00 average at the 21st Bongongo Sale on September 30th.  Bill Graham insists our aim is to sell bulls in 'their working clothes' when they leave our property.  Top price was $17,500.00 twice.  Equal top price buyers were Renato Gaspari Coots Creek Angus Yass and Paul Ferry Abingdon Station Nangus.  Mr Gaspari a long term client purchased 3 bulls to average $16,600.00.  Paul Ferry and his manager Garry Williamson who have been clients for 14 years bought 5 bulls to average $11,900.00.  They run 1250 breeders and hold an on-property weaner sale each June when the calves are sold 9-11 months old. The Keatinge family Adjungbilly were again strong supporters and took home 7 bulls to average $9,000.00.  The Lenehan family Beggan Began Harden, Go Oakleigh partnership Coolac, and the Longley family Yass were also strong supporters of this sale.  The RUOK foundation for mental health were very pleased with our sale average donation!  A big thank you to all bidders, underbidders, family and friends for their outstanding support at this sale!
 2014 Autumn Helmsman sale
Thank you to all buyers and underbidders for their support and we wish you all the best with your purchases.We had a very successful Autumn sale, selling 36 bulls to a top of $8,500 twice to average $5,300.00.  The Mawhood family Sunny Point Pastoral Oberon purchased one top priced bull Bongongo H724.  He is a Te Mania Emperor son out of a Bulletproof grandaughter.    Two more bulls went to Sunnypoint Pastoral.The Mawhood family target 400 day growth and they sell their beef through their IGA supermarket at Oberon and also at Gladesville.  The Harris family Springvale Coolac purchased the other top priced bull Lot 1 Bongongo H134 another Te Mania Emperor son out of a Rennylea B77 grandaughter.  The Harris' purchased another 2 bulls for $7,000.00and $4,000.00.  The Lenehan family Beggan beggan Harden took home three bulls to average $6833.00.  The sale auctioneer was Steve Ridley Elders Goulburn and the sale was conducted by McAlister Saunderson Stubbs Gundagai.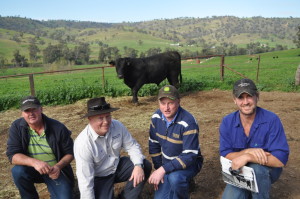 2013 Spring Sale Report (19th Annual)
A successful sale with a total clearance of 55 bulls to average $5,200.00 to a top of $8,000.00.  This sale was our first Spring sale at Riverview and our first by video auction and was well received on the day.  Many commented on the comfort of sitting watching the bulls on a screen.  All the bulls are physically penned as usual but they do not have the stress of being put through a ring.  David Graham 'Red Hill' Adjungbilly purchased the top priced bull Bongongo H160 for $8,000.00, he was a son of Ardrossan Equator A241.  Volume buyers on the day were the Keatinge family, Kinghill Pastoral Adjungbilly who took home 4 bulls to average $5,875.00.  Futter Park Ltd Harden also took home 4 bulls to average $5,625.00. Photo courtesy of The Land (Brett Tindall)
2012 report (18th Annual Sale)
We had a successful Spring sale with a total clearance of 64 bulls to a top of $8,500 to average $5,600. The top bull Bongongo NGX G107 a son of Ardrossan Equator A241 was bought by Chris Longley Longaroo Yass. This bull had impressive figures at 3.2 for birthweight, strong growth – 200 day +42, 400 day +82 , 600 day +106, positive for all carcase traits to +0.6 for eye muscle area and +2.3 intramuscular fat.
There were 2 bulls in the draft that made $8,000. with the McIntosh family Myanga Angus, Crookwell, paying $8,000 for the first bull of the day Bongongo NGX F411 a son of Rennylea B77. Tony and Helen Griffin Urriara Station ACT bought 5 bulls to average $5,900 to a top of $7,000. The Griffins run 400 cows and 100 heifers on their property producing steers around 400 to 450 kg for Teys Australia Jindalee feedlot, and their manager Luke Hutchinson said they look for good sound commercial bulls with moderate birthweights and strong 400 day growth.
The Keatinge family from Coolac were again strong supportors of the sale buying three bulls to a top of $6,750 to average $6,250. Mark Kracht "Glen Breeze" Mittagong bought 5 bulls. Sandy Tait Gunnong Jugrawah Coolac took home three bulls. David Graham Red Hill Adjungbilly bought 3 bulls.
In the female sale the 11 Stud Heifers with July/August calf at foot made $1900. and sold to Ashley and Caroline Hermes Cootamundra.
We would like to thank the many return clients and the new clients who supported our 18th Annual sale and helped make the day successful. We would love to hear your feedback!
The sale was conducted by McAlister, Saunderson, Stubbs Gundagai and the auctioneer was Steve Ridley form Elders Goulburn.
2012 Autumn Helmsman Sale Report
On Tuesday May 22nd 2012 we held our Autumn Bull Sale which was a very successful day. Adopting the Helmsman selling system for the first tme to give all clients equal opportunity rather than selling the Atumn Sale bulls by Private Treaty saw 39 bulls sold to average $5175.00 to a top of $8,000.00 twice. The first bull to hit $8,000 was Bongongo F291 (AI) (ET) purchased by Fernhill Holdings. This bull had been used in our Spring joining program and was by Rennylea B77(AI)(ET) from Comfort Hill Beeac Z90 (AI)(ET). The equal top priced bull Bongongo F292 (AI)(ET) was bought by Go Oakleigh Partnership. This bull was by Ardrossan Equator A241(AI)(ET) and from Bongongo C92(AI)(ET).
Thank you also to Steve Ridley, Elders Goulburn who ran the sale very smoothly with the help of Jim Saunderson and Ross Tout from McAlister, Saunderson, Stubbs Gundagai. We woud also like to thank all our clients especially those who supported us on the day. We hope our clients were happy with the sale and their bulls and if you have any problems please don't hesitate to contact us. If you have any comments or feedback on the sale we would love to hear from you so please email, fax or phone us with your ideas or comments.
2011 Sale Report
ROUNDING out a long season of Angus sales, which have met extremely strong demand, the annual Bongongo Angus bull sale at Adjungbilly followed suit clearing all 58 bulls to average $5775.00
The draft saw 18 two year old bulls and 40 Autumn drop 18 month old bulls top at $8500 to record the $5775.00 average, which was up slightly on last year. The bulls mostly in their teenage years as younger bulls have come through a tough cold Winter at Adjungbilly, but still recorded strong demand from a big gallery of return buyers, who know what the bulls can breed onto.
The top bull was Bongongo E215, a two year old APR son of Mytty In Focus that was used in the Spring joining program, with outstanding growth and carcase, coming in at +101 for 600 day, +$106 for CAAB, positive for rib and rump, eye muscle area, intra muscular fat percentage and +63 for carcase weight. He was bought by the Lenehan family, "Beggan Beggan", Harden, for $8500.
Repeat client Luke Hutchinson (manager), "Uriarra Station", ACT for Tony and Helen Griffin , runs 400 cows and bought two bulls including the second top at $8250 who was also the top Autumn drop bull , along with a second bull at $6500. The top young bull was +102 for 600 day, positive for EMA and iMF, +$97 for CAAB, with a +4.7 birth weight and sired by home bred sire Bongongo B270, a full brother to Bongongo Bulletproof Z.
But the market was set by 15 year veteran at the sale Chris Longley, "Longaroo", Yass, who bought eight bulls to a top of $8000, averaging $6094. Mr Longley who joins 700 cows and breed steers for the feedlots, said he loves the temperament of the Bongongo bulls and their doing ability to breed good sound productive cattle. Nick, Sally and Andrew Keatinge, "Nanangrove", Coolac, bought solidly throughout the sale buying five bulls between $5000 and $6000 to average $5300, while DJ Graham Trust, "Red Hill", Adjungbilly, bought four bulls at $5500. Cootes Creek Angus, Hall, ACT, bought four bulls at $6000, while Filetron Pty Ltd,"Bangailly Station", Canyonleigh, purchased three at $6500 and Sandy Creek Pastoral Company, Brungle, paid $5333 for their three. Rounding out the sale Graham Harris, "Springvale, Coolac, paid $7500 and $4500 for two, while Phil Hosking, "Numeralla", Coolac, averaged three at $5000 and Sandy Tait, "Gunnong" Coolac, paid $6500 apiece for two bulls.
Commercial Female Sale
A total of 278 females were sold including 41 two year old heifers to calve November/December , topping at $1225.00 and averaged $1150.00. 112 two year old heifers with young two and half month old calves topped at $1740.00 and averaged $1638, while 125 unjoined yearling heifers, 12 – 13 months, topped at $1050.00 and averaged $882.00.
These commercial Angus breeders offered separately by David and Kate Graham and Bill and Shauna Graham met spirited bidding from new and repeat clients with the majority going to southern NSW and upper Murray regions.
The sale was conducted by Elders and McAlister Saunderson and Stubbs, with Steve Ridley as the auctioneer.
2010 Sale Report
2010 sale saw a total clearance of all 59 bulls offered to a top of $10,250, to average $5,360. The top bull lot 9 Bongongo E3 (ET) a son of Rennylea B77 sold to Renato Gaspari Cootes Creek Angus Hall ACT. This bull has impeccable genetics with input from the best gene pools in this country with the sire line by Rennylea B77 out of the grandmother of Bongongo Bulletproof Z3.
The sale had very strong support from return clients with volume buyer Paul & Rachel Graham Bongongo Coolac putting together an impressive group of bulls to average $5,970. The Lenehan family, Beggan Beggan Harden took home 3 bulls to average $6,350.00. Nick & Sally Keatinge Nanangroe Coolac bought 4 bulls to average $4,200, as did Longaroo Past Co Yass both strong supporters of Bongongo Angus for many years. Graeme & Carol Harris Springvale Coolac took home 2 bulls to average $4,875. Tony and Helen Griffin Uriarra station bought 2 bulls to average $5,625.
The Commercial Angus female sale sold from the separate herds of brothers Bill, John & Paul Graham reaching record prices both for this sale and the Angus breed in recent years. Strong competition from many areas of NSW and Queensland reflected the good season being experienced in the Eastern states, a positive outlook for the industry and mostly a lack of quality replacement breeders available due to years of drought and high kill rates of younger stock.
FEMALE SALE SUMMARY
Cows & Calves 36 sold to average $1,775.00
Heifers & calves 74 sold to average $1,431.42
Heifers – 171 sold to average $764.50
Bongongo Angus Sale Report Spring 2009
Sale opened by Sandy Tait, "Gunnong Jugrawah" Coolac.
Very enthusiastic bidding from the start saw 45 bulls sell to a top of $9,500 to average $5,290.
There was very strong demand for the 8 sons of Rennylea B77 which averaged $7,437 and the12 sons of Bongongo Bulletproof Z3 averaged $5,542.
Grant McMullen (Manager Filetron Ltd, Sutton Forest) bought 3 sons of Rennylea B77 including the top priced bull Bongongo D56 for $9.500.
Return buyers Graeme & Carol Harris (Springvale, Coolac) bought another Rennylea B77 son Bongongo D79 for $9,250.00 which was the 2nd top price.
The Lenehan family (Beggan Beggan, Harden) bought 3 bulls to a top of $8,250 for Bongongo D76 another Rennylea B77 son.
The commercial females sale was also extremely successful with the top line of cows with CAF selling to $1700.
We wish to thank everyone for their continued support!
Great result for 2008 Bongongo Angus sale
100% clearance of 44 bulls offered, selling to a top of $9,000 and an average of $5,517.
The top bull was Lot 14 (NGX C66) a son of Bongongo Bulletproof Z3 bought by Craiglea Partnership at Hobby's Yards Blayney.
12 sons of Bongongo Bulletproof Z3 sold for an average of $6,354.
2007 sale
50 bulls offered – 95% clearance rate – averaged $4,182
Top price $7250 for the first son of Bongongo Bulletproof to be sold
250 commercial females – averaged $875
The 2007 sale was held on 3rd October 2007. The Spring sale was very successful despite the tough seasonal conditions (again) with a 95% clearance to a top of $7250 and average of $4182. The top priced bull was the first son of Bongongo Bulletproof to be sold. The commercial female sale sold approximately 300 head bringing an average of $875.
Bulls were by AI sires including Ardrossan Connection X15, BR Midland, New Design 1407, Destination 928, Ironwood New Level, Global Alliance 187, Baldridge Nebraska, Frontier 095; and Bongongo sires Y278, Y128 and V196.
2006 sale
40 bulls sold – averaged $3,331. Top price $8,250
2005 sale
41 bulls sold – averaged $4,020. Top price $8,750
2004 sale
40 bulls sold – averaged $5,381. Top price $10,000